Impact Stories
Building a Social Fence Around the Mountain
Posted on January 12, 2015
Project Title: Environmental Presentation of 3D Map of Mts. Banahaw-San Cristobal Protected Landscape and Lobbying of HB2773/Banahaw Bill in the 14th Congress
Year: 2005
Grant Type: Action Grant
Site: Sariaya, Tayabas, and Dolores (Quezon)
Proponent: Luntiang Alyansa para sa Bundok Banahaw (LABB)
The "social fence" around Mts. Banahaw-San Cristobal composed of POs and other stakeholders protects the park in many ways, even in the absence of national law. This is clearly seen in the quarterly BMS activities done by the teams, the vigilance of the POs in terms of guarding the landscape in between BMS, the reforestation efforts, particularly the planting and caring for young trees, as well as rehabilitating big trees damaged by typhoons and many more. These tasks are not easy. Yet the POs are doing all these voluntarily. They hold on to the belief that when they care for the landscape, it will give back a hundredfold to them now and in the future. Indeed, they play a key role; with their accumulated wisdom and organic links to the mountain, they can serve as the strong vines that guide the unfamiliar visitors or hold the big trees in place.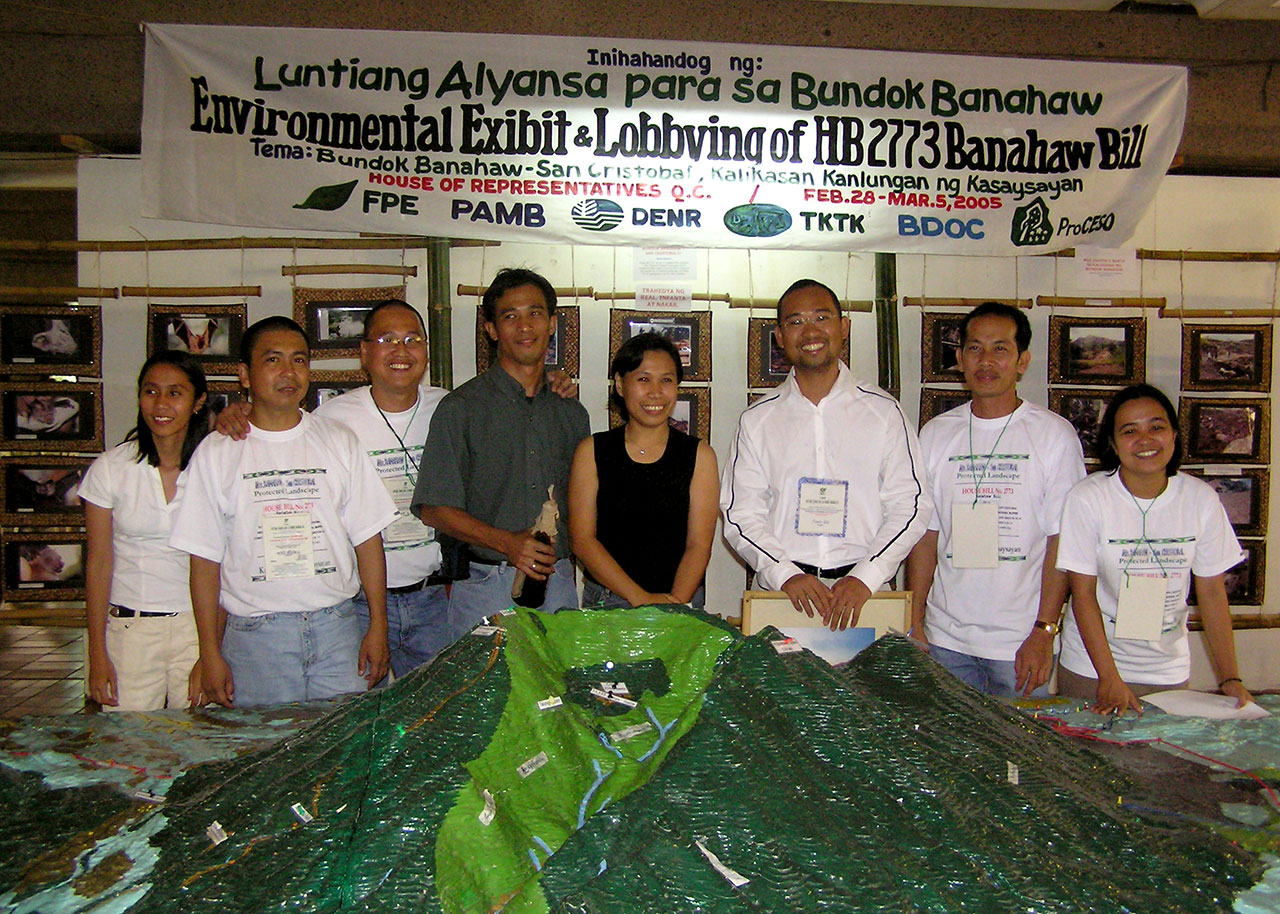 Representatives from LABB, Tanggol Kalikasan, and FPE pose with the 3-dimensional map of Mts Banahaw and San Cristobal, which was presented during the lobbying of the Banahaw Bill at the House of Representatives in 2005. (FPE)
The LABB experience offers rich insights:
The "social fence" plays a key role in landscape protection. The 21 POs that serve as social fence at the foothills of Mts. Banahaw-San Cristobal perform a key role in protecting the landscape. Their efforts are now beginning to bear good fruit. People who are determined and united are bound to achieve gains. However, there should be continuous effort at self-strengthening and expanding the scope of the fence.
Social fence is not enough. Lobbying for the enactment of a national law needs to be continued. A law is very important to give teeth to protective mechanisms and to mobilize the national resources – legal, political, and moral – to ensure effective and decisive protection of Mts. Banahaw-San Cristobal. However, lobbying for the enactment of a bill into law is certainly demanding and laborious. Each Congress covers only three years, and when a bill is not enacted into law within the period, it has to be re-filed in the next Congress and the whole process starts all over again. Thus the Banahaw bill needs to be re-filed at the earliest possible time during the 14th Congress.
Partnerships and cooperation beyond the fence need to be strengthened grounded on mutual transparency and trust. The FPE-LABB partnership has been going on for years. One could say that the partnership is largely responsible for the current positive results in terms of landscape rehabilitation and protection. However, considering the big task at hand, it is very important for our partners to continuously strengthen their collaboration grounded on mutual transparency and trust.
(Contributed by Erlinda Timbreza-Valerio and Constancia Sinco)
* * * * *
Adapted from "Bringing the Mountains to Congress" in Manipon AJN and Mesina SR. 2009. "Communities, Conservation, and the Filipino Environmentalist." Quezon City, Philippines: Foundation for the Philippine Environment.