Impact Stories
From Extraction to Stewardship
Posted on March 4, 2015
Project Title: Biak-na-Bato National Park Conservation Project
Year: 1997-2007
Grant Type: Site-focused
Site:, San Miguel and Doña Remedios Trinidad, Bulacan
Proponent: Buklud-Unlad ng Dalitang Umaasa sa Kalikasan (BUNDUK)
The BNBNP Conservation Project offers many lessons for both FPE and Miriam PEACE (Public Education and Awareness Campaign for the Environment), and for good reason. Through the project, Biak-na-Bato is now slowly but steadily being developed by organized communities as an ecologically sustainable national park.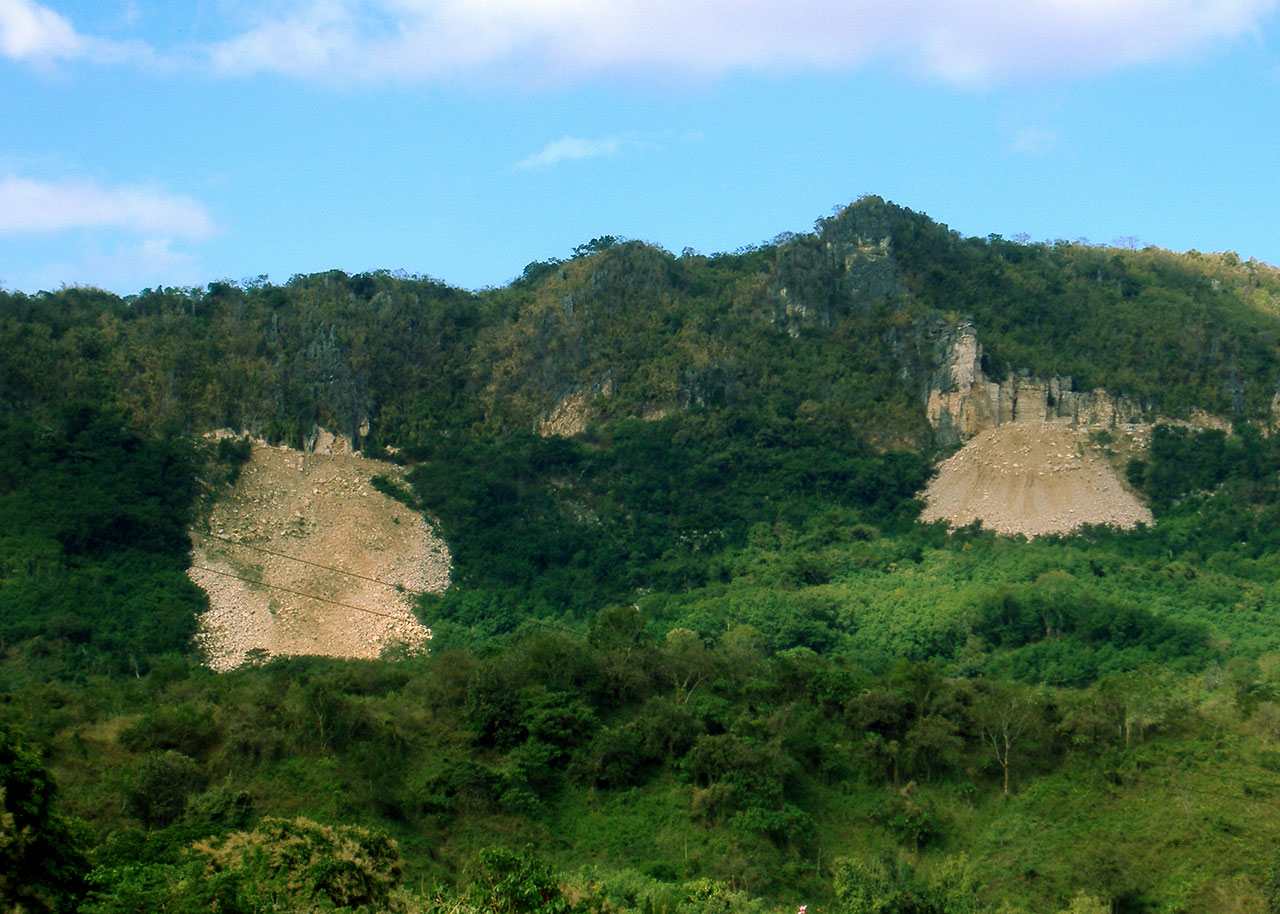 Eroded slopes in one of the quarry sites in Biak-na-Bato. (FPE)
The intervention in Biak-na-Bato abounds with stories of how people have changed their perception of the world around them and constructed new meanings in their relationship with the natural environment. Ka Vic Villela stands out, not only because he is the elected federation chair and because he was at the forefront of the struggle against quarrying, but also because of a dramatic turnaround from his involvement in the past with large-scale illegal logging activities. Although his participation in these activities was already declining when he became an elected barangay councilor, it was only when Miriam PEACE arrived and depended on him to get around the community for initial organizing efforts that his attitudes began to change.
"Noong una, hindi ko sila pinapakialaman," said Ka Vic. "Nag-oorganize sila diyan, pinapasamahan ko sila sa mga anak ko sa Kalawakan… hanggang sa tuluyan akong napahiya sa sarili ko." (At first, I didn't involve myself with whatever they were doing. As they went about organizing people, I would ask my son to accompany them to Kalawakan… until I eventually felt ashamed of myself.) Before long, Ka Vic was helping in mobilizing friends and neighbors against the quarry operators.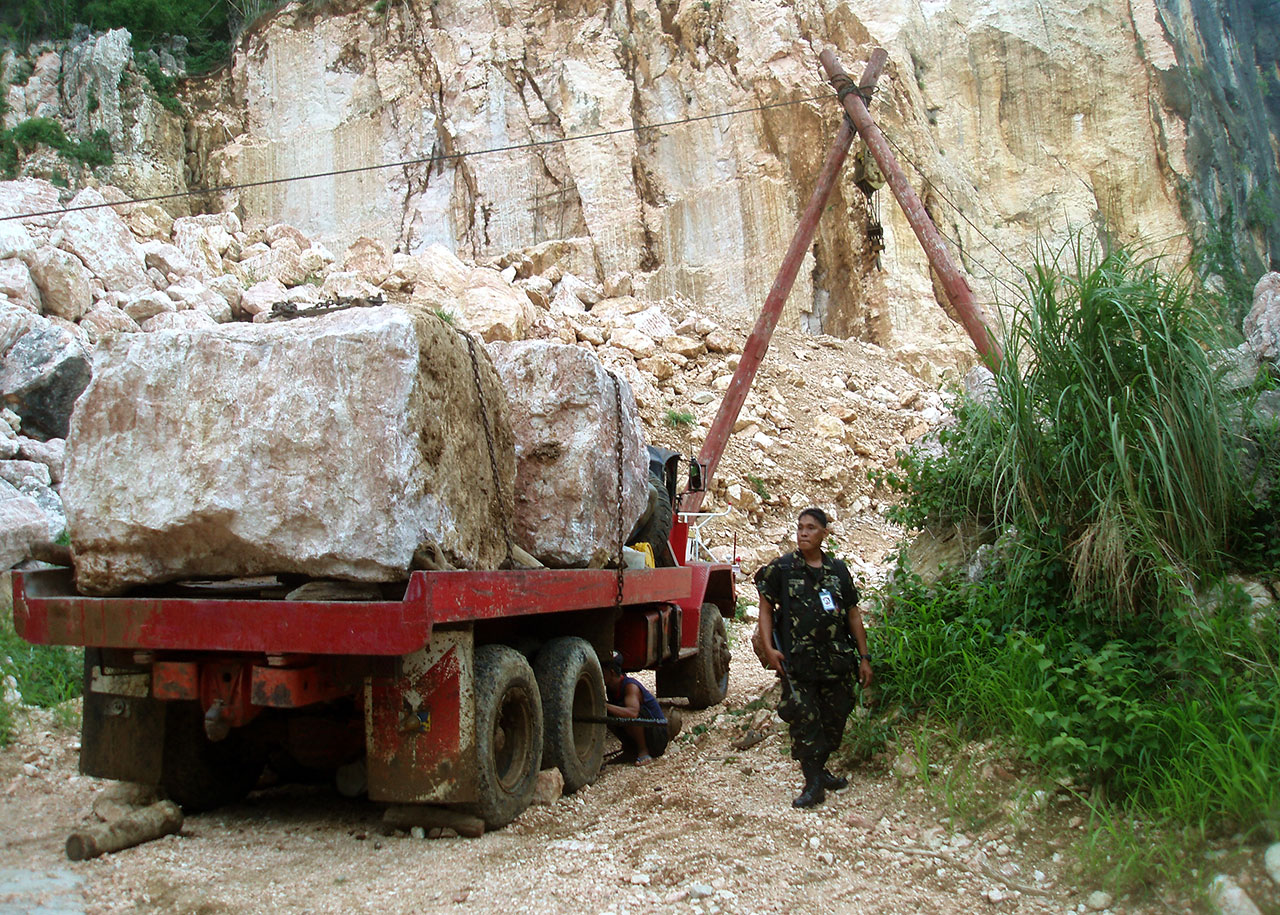 A truckload of huge blocks of marble from the limestone mountains of Biak-na-Bato. (BUNDUK)
Dr. Donna Reyes of Miriam PEACE attests to such substantive changes. She recounts a forum about quarrying where all the provincial officials were present, including Governor Dela Cruz herself. Occupying the front rows were Ka Vic and the other members of BUNDUK. When the Philippine Daily Inquirer ran the story about this activity, it was Ka Vic who was quoted for his views on Biak-na-Bato.
Ka Juan Bautista was also initially unconcerned about the quarry since it was some distance from his residence in Barangay Biak-na-Bato. He said: "Noong una, sa akin, wala iyan. Isyu lang iyan doon sa Sibul. Pero nagsimula nga ito [BNBNP Conservation Project], naging presidente ako ng SAMAKABA (Samahan ng mga Mamamayan para sa Kalikasan ng Biak-na-Bato) at konsehal din. Bumaba ang maraming bloke ng marmol na dito idinaan. Doon nagsimula, nang minsan harangin namin ang mga container van." (I did not mind the quarrying before. I said to myself, that's Sibul's issue. But then this project started, I was then the president of SAMAKABA and also a councilor. Many blocks of marble were transported through this road, and we stopped them. That's how I started to be engaged in this, when once we mobilized to block those container vans.) He also liked the concept of the project, having grown up in Biak-na-Bato and seen how his surroundings had changed for the worse.
That PO leaders and members have "internalized the need to protect the BNBNP area" is considered by Dr. Angelina Galang, former ESI Executive Director, as the project's biggest gain. She remembers how Miriam PEACE used to lead the communities when engaging the DENR, but in recent years, BUNDUK now leads and initiates and they follow or extend support. "In fact, they would just text us and call us, we are going to the DENR, please support us." And even if some of them could benefit as small-scale miners, they themselves told Miriam PEACE that they wanted all quarrying operations to stop, not just Rosemoor.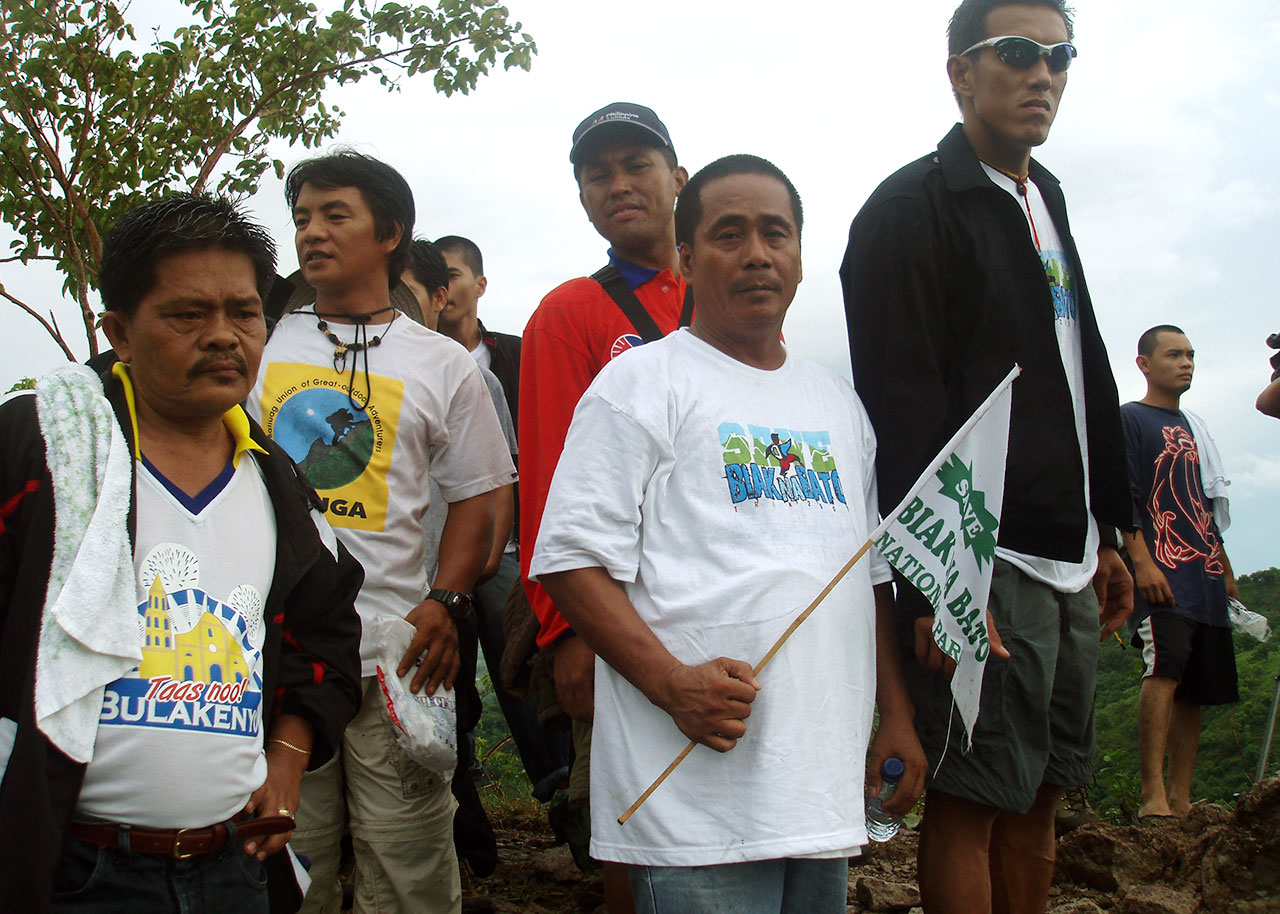 The members of BUNDUK, who are at the forefront of the campaign against the quarrying operations in Biak-na-Bato, are proud of the principles that they are fighting for. (BUNDUK)
These changes have in turn begun to influence resource use of communities in Biak-na-Bato. Dr. Reyes once asked some of the PO members if charcoal-making has been stopped. "Hindi naman po, ma'am," they told me, 'pero half-half na lang,' meaning that it has now been significantly reduced." (Not really ma'am, but it has declined.) There is a clear progression from a purely extractive attitude towards the environment to one of stewardship. Of course, income security concerns are a major motivation for environmental nurturance, but beyond this, they've also made connections of a more inter-generational nature between Biak-na-Bato's future and their own, as individuals and communities, and are taking a longer view of themselves as its stewards.
(Contributed by Mae Buenaventura)
* * * * *
Adapted from "Saving Biak-na-Bato" in Manipon AJN and Mesina SR. 2009. "Communities, Conservation, and the Filipino Environmentalist." Quezon City, Philippines: Foundation for the Philippine Environment.