Impact Stories
Taking Control of Our Future
Posted on September 3, 2015
Paving the Way for Solar-Powered and Sustainable Schools
Project Title: Solar Generation Sustainable Campus Program
Year: 2011
Grant Type: Advocacy
Site: National
Proponent: Greenpeace Southeast Asia Environmental Trust, Inc.
"We simply must balance our demand for energy with our rapidly shrinking resources," Nobel laureate and advocate of renewable energy, former US President Jimmy Carter argued. "By acting now we can control our future instead of letting the future control us."
Weather events in the past years and the wide-scale destruction brought about by typhoons are evidences of climate change. The Philippines is most vulnerable to disasters caused by climate change and yet, it is ill-prepared.
Climate change, caused by the relentless build-up of greenhouse gases in the earth's atmosphere, is already disrupting ecosystems and causing some 150,000 deaths yearly, worldwide. According to Greenpeace, the carbon dioxide content of the atmosphere has already risen by more than a third since the Industrial Revolution. A global warming of two degrees would threaten millions of people with increased hunger, malaria, flooding, and water shortages. Despite the inevitability of continued and frequent extreme, intense, and damaging weather events and the established causality between such natural disasters and climate change, the Philippines remains reliant on fossil fuels that emit large amounts of carbon dioxide into the earth's atmosphere. 70% of the country's electricity comes from coal, mineral oil and natural gas, all of which are unsustainable.
Greenpeace believes that Southeast Asia must realize its significant role in mitigating the effects of climate change. The solution lies in an Energy [R]evolution, where energy efficiency and renewable energy (RE) will play key roles. Greenpeace campaigns for a 50% renewable energy generation scenario and a 20% energy efficiency for the Philippines by 2020.
Like sunshine and wind, the country's potential for clean renewable energy such as wind and solar power is vast and limitless. The Renewable Energy Act of 2008 (Republic Act 9531) which seeks to promote the development of RE resources and its commercialization provides incentives to RE investors. Renewable energy, coupled with the smart and efficient use of energy, will free the country from unstable oil and gas supplies and prices that have serious economic and political implications.
The Intergovernmental Panel on Climate Change (IPCC) underscores the grave consequences should the country continue down the high emission pathway of climate change — increased poverty, inequity, and death. Despite the Renewable Energy Act and the IPCC statement, as the power crisis looms, proposals to install more power capacity come in the form of coal-fired fuel plants or even nuclear power plants which make use of finite resources that are scarce and expensive to produce and hence, make the country susceptible to external market forces. The latter (nuclear energy) also poses multiple threats to the environment and human life.
As part of this mission, Greenpeace Southeast Asia spearheaded the Solar Generation Sustainable Campus Program which is designed to mold institutions of learning as advocates and practitioners of sustainability by establishing models of energy efficiency and environmental sustainability through schools that also have a strategic value in ensuring wider movements towards such end. It aims to conserve energy and resources, reduce the participating institutions' environmental impact, and empower the youth as climate change champions.
UNICEF Ambassador Lord David Putnam put it succinctly, "Our children and those yet unborn deserve to live in a world that is healthier, more equitable, and which offers a sustainable future. Exactly the type of world we ourselves would want to live in."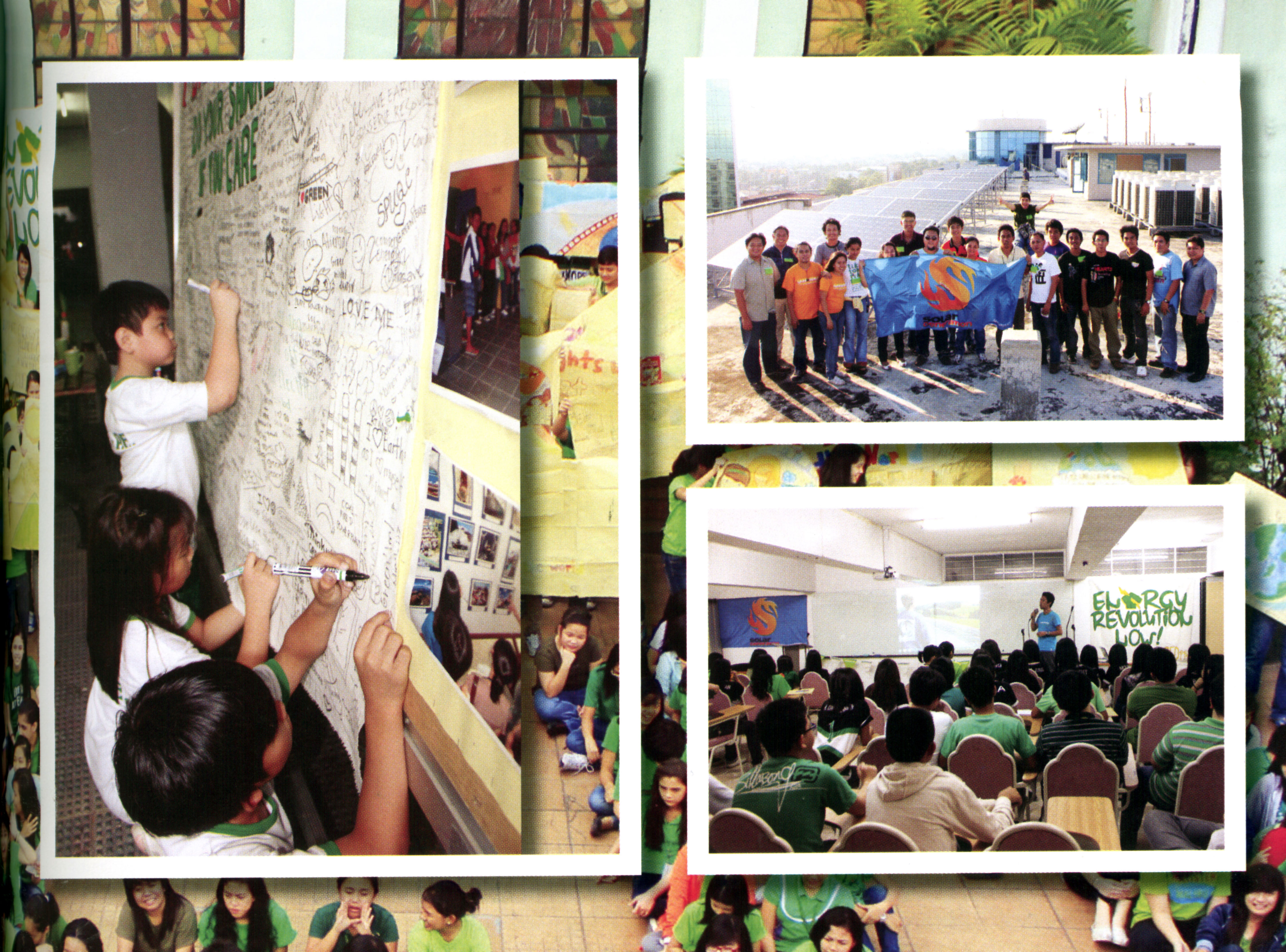 Through the program, participating universities and schools are taught the necessary skills to enable students, faculty and staff to make an institution-wide energy audit of current energy practices and carbon footprint. They are also equipped with the necessary skills and resources to start public awareness campaigns which promote simple and practical energy saving tips, practices and lifestyles.
Greenpeace is working with public and private schools in Mindanao and Luzon for this project. Partnerships with target educational institutions, the Department of Energy, the Department of Education, the Commission on Higher Education, and a technical partner such as the Philippine Green Building Council are forged and Solar Generation Sustainable Committees are established in the six identified schools/universities. Solar Generation Sustainable "Skillshares" activities, one each for Metro Manila and Mindanao, are held to promote steps to minimize energy use and enable each committee to plan its programs. Technical expertise for the energy audit is provided by the energy department and the technical partner. The public awareness campaigns led by the abovementioned committees are held to advocate energy reduction of the institutions involved with the underlying philosophy that simple steps, when done collectively, will make a big difference.
By October, 2011, Greenpeace will present the results of the energy audits and make recommendations for plans and possible retrofits to conserve energy in the chosen schools.
By calling on students as the primary movers of the program, the youth themselves learn about climate change and the environment and are taught ways to take positive action. Empowering the youth has a multiplier effect as they share their knowledge and skills with co-students, teachers, friends, families and immediate communities.
The youth has the potential to be in the forefront of environmental advocacy and ultimately demand from government, the business community and other relevant sectors concrete action and meaningful reforms aimed towards addressing the problems of the climate change at its roots. As inheritors of the future, they are tomorrow's movers, shakers and decision makers.
The proponent, Greenpeace Southeast Asia Environmental Trust, Inc., is envisioned as the leading and most compelling environmental organization in Southeast Asia able to catalyze landmark changes to end deforestation in the region and help stabilize the global climate. Its mission is to safeguard environmental rights, expose and stop environmental crimes, and advance clean development.
Greenpeace is an independent global campaigning organization that acts to change attitudes and behavior, to protect and conserve the environment and to promote peace by catalyzing an energy revolution, by creating a toxic-free future, and by campaigning for sustainable agriculture.
* * * * *
Originally published in the Foundation for the Philippine Environment Annual Report 2011.