Impact Stories
Thinking Outside the (Non-Renewable) Box
Posted on November 19, 2014
Developing Renewable Energy Options
Project Title: Developing Market Options for Renewable Energy Project
Year: 2011
Grant Type: Advocacy
Site: Cebu/Central Visayas
Proponent: Central Visayas Fisherfolks Development Center, Inc.
With the scourge of climate change and environmental degradation becoming more apparent, calls for a shift in policy frameworks, development paradigms, and lifestyles become ever more urgent. These global problems are increasingly felt nationally and locally. Heavier rains, flash floods, a rise in sea levels, spread of infectious diseases, and scarcity of resources given the heavy reliance on unsustainable fossil fuel for energy requirements are some of the serious ecological problems facing the country.
There is growing international consensus on the need to develop low carbon, resource-efficient, and socially inclusive economies in an emerging Green Economy Framework. US President Barack Obama argued that "to truly transform our economy, protect our security, and save our planet from the ravages of climate change, we need to ultimately make clean, renewable energy the profitable kind of energy."
This poses a critical challenge to existing development models that measure progress quantitatively through GNP, GDP and other similar indicators, discarding, among others, the sustainability of societies and the quality of life and the environment. The message of the Green Economy Model is simple: not all investments are good investments! In fact, most of our society's economic wealth has been generated through the overexploitation and pollution of our environment with the most vulnerable sectors bearing the brunt of the resulting environmental destruction. Taking sustainable development as a guiding principle, the Green Economy Framework requires the strengthening of three inseparable pillars: economic development, social development, and environmental protection.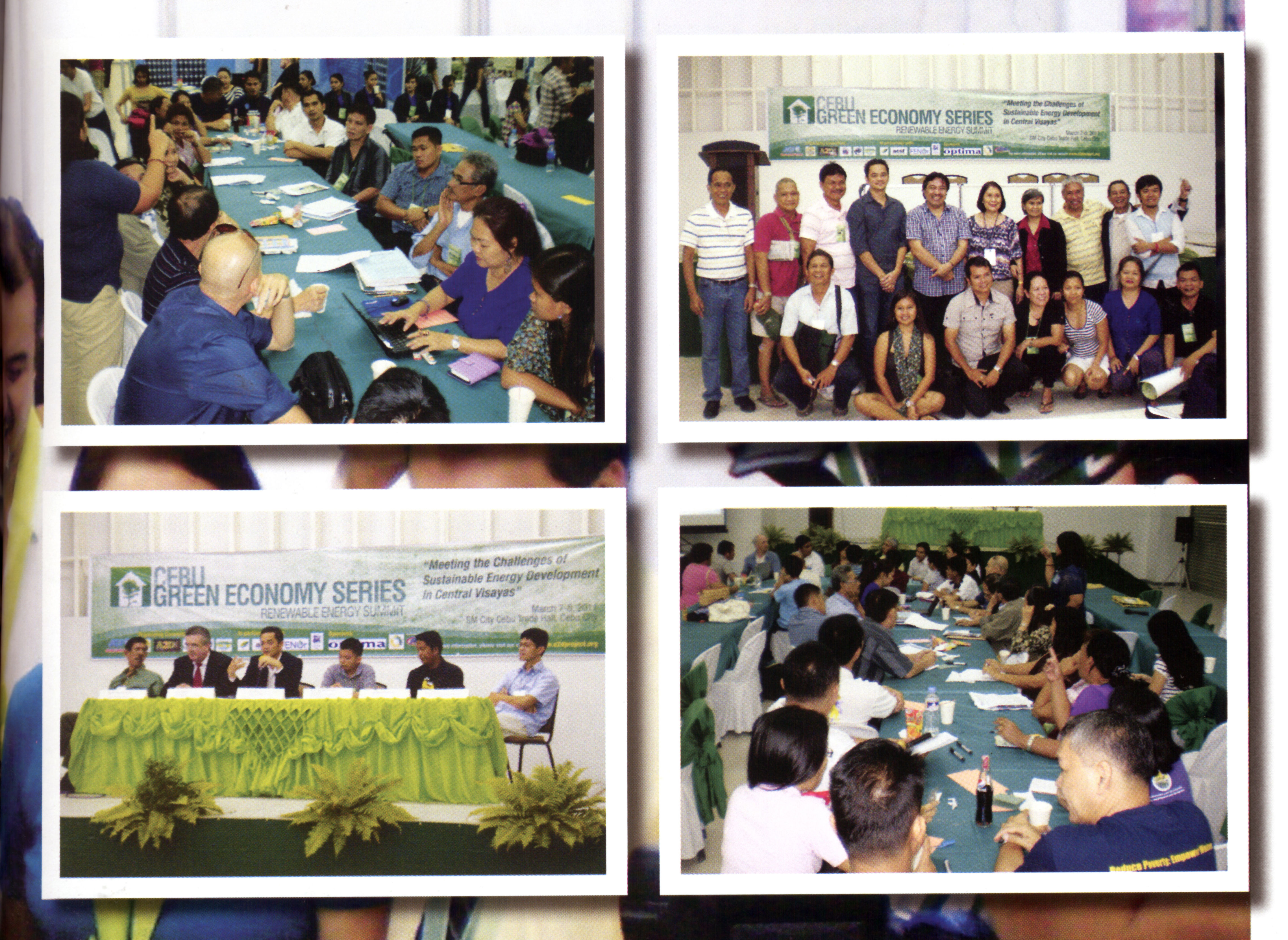 The search for local solutions to these problems led to the formation of the Cebu Green Economy Series, a string of events that allows stakeholders to discuss relevant and interrelated issues of environment, society, and the economy. Its aim is to explore rapid but low-risk alternatives to the destructive ways in which societies have carried out developmental projects that exploit the environment and further marginalize the poor. Among the themes addressed by the Cebu Green Economy Series are the following: 1) clean and alternative energy, 2) green jobs and investments, 3) food security, 4) sustainable transportation, 5) sustainable waste management and resource conservation, 6) eco-friendly built environment and architecture, and 7) livable cities and urban environment.
To start the series, the Renewable Energy Summit with the theme "Meeting the Challenges of Sustainable Energy Development in Central Visayas" was held on March 7 to 8, 2011 at the SM City Cebu Trade Hall in Cebu City.
The summit was held to develop mechanisms and infrastructure for enabling markets for renewable energy (RE); to map out resources and potentials for RE development in Central Visayas; and, to formulate an action plan for promoting RE as the best alternative to heavy and unsustainable reliance on fossil fuels for energy needs.
While the project was being planned, there was an on-going petition of grassroots communities and environmental advocates against the continued operation of existing coal-fired power plants. Under the new rules of procedure, a temporary environmental protection order in favor of the petitioner was granted by a local court.
In 2005, the Cebu Alliance for Renewable Energy (CARE) took samples of coal ashes from the power plants in Naga City and Toledo City, Cebu and discovered traces of arsenic, chromium, lead, and mercury. In 2009, a medical evaluation in Naga City recorded high incidences of cardio-related and upper respiratory diseases and illnesses. Dr. Romeo Quijano, a leading toxicologist, led volunteers in collecting coal-ash samples which were tested at Ateneo de Manila University's Philippine Institute for Pure and Applied Chemistry and the samples gathered yielded significantly high levels of heavy metals.
The scientific data gathered, coupled with community opposition to coal plants via legal actions, showed that coal-fired power plants are hazardous to both the environment and to human health.
The summit became more urgent as some local lawmakers suggested nuclear energy as an alternative to coal-fired power plants. Naturally, the proponent believes that renewable energy is the solution and not the building of nuclear power plants as some legislators have proposed.
After all, the Department of Energy itself stipulates that "the harnessing and utilization of renewable energy (RE) comprise a critical component of the government's strategy to provide energy supply for the country... It is the government's policy to facilitate the energy sector's transition to a sustainable system with RE as an increasingly prominent, viable, and competitive fuel option. The shift from fossil fuel sources to renewable forms of energy is a key strategy in ensuring the success of this transition."
To show and prove that RE is, indeed, the right solution, this multi-stakeholder event involved key representatives from local government units, civil society and business sectors. The forum became a venue for plenary and panel discussions on topics such as the power situation in Central Visayas, the Renewable Energy Act of 2008, and public-private partnerships on RE projects, within the larger framework of promoting Green Economy. There was also a two-day exhibition highlighting best practices for the implementation of RE programs in and by communities, LGUs, and NGOs. Companies, banks, financial institutions, and other organizations with products and services that advance RE development were invited to join the exhibition.
The proponent, the Central Visayas Fisherfolks Development Center, Inc. (FIDEC), is a non-stock, non-profit service institution for marginal fisherfolks in Region 7 (Central Visayas). FIDEC works with fisherfolk sectors in the said region in order to advance their socio-economic and political well-being by providing support services such as organizing, education and training, information dissemination, socio-economic and livelihood projects, and marine ecology enhancement programs.
* * * * *
Originally published in the Foundation for the Philippine Environment Annual Report 2011.