Impact Stories
Whispers from the Sea
Posted on December 16, 2014
Audio-Based Materials on Fisheries Management and Climate Change
Project Title: Audio-Based Materials on Fisheries Management and Climate Change
Year: 2011
Site: Palawan (Taytay, Quezon) and Occidental Mindoro (Sablayan)
Proponent: Foundation for Information Technology & Communication (FIT-ED)
Face-to-face communication is the most effective channel of communication. Interpersonal communication offers the advantages of intimacy, interactivity, and immediate feedback. Filipino and various Philippine languages are high-context languages and hence the nonverbal component is both essential and dominant. If the goal of communication is behavior modification, face-to-face communication is most effective and is the best way to establish trust and confidence.
Radio, on the other hand, has the advantage of reaching a wider audience at a minimal cost. Mass media and interpersonal communication complement each other in this project and the combination of the two results to synergy.
The project demonstrates the effectiveness of delivering educational content to communities with the use of both radio broadcast and structured face-to-face community discussions. As a result, significant increase in the awareness and knowledge of participants in fisheries management and climate change has been observed.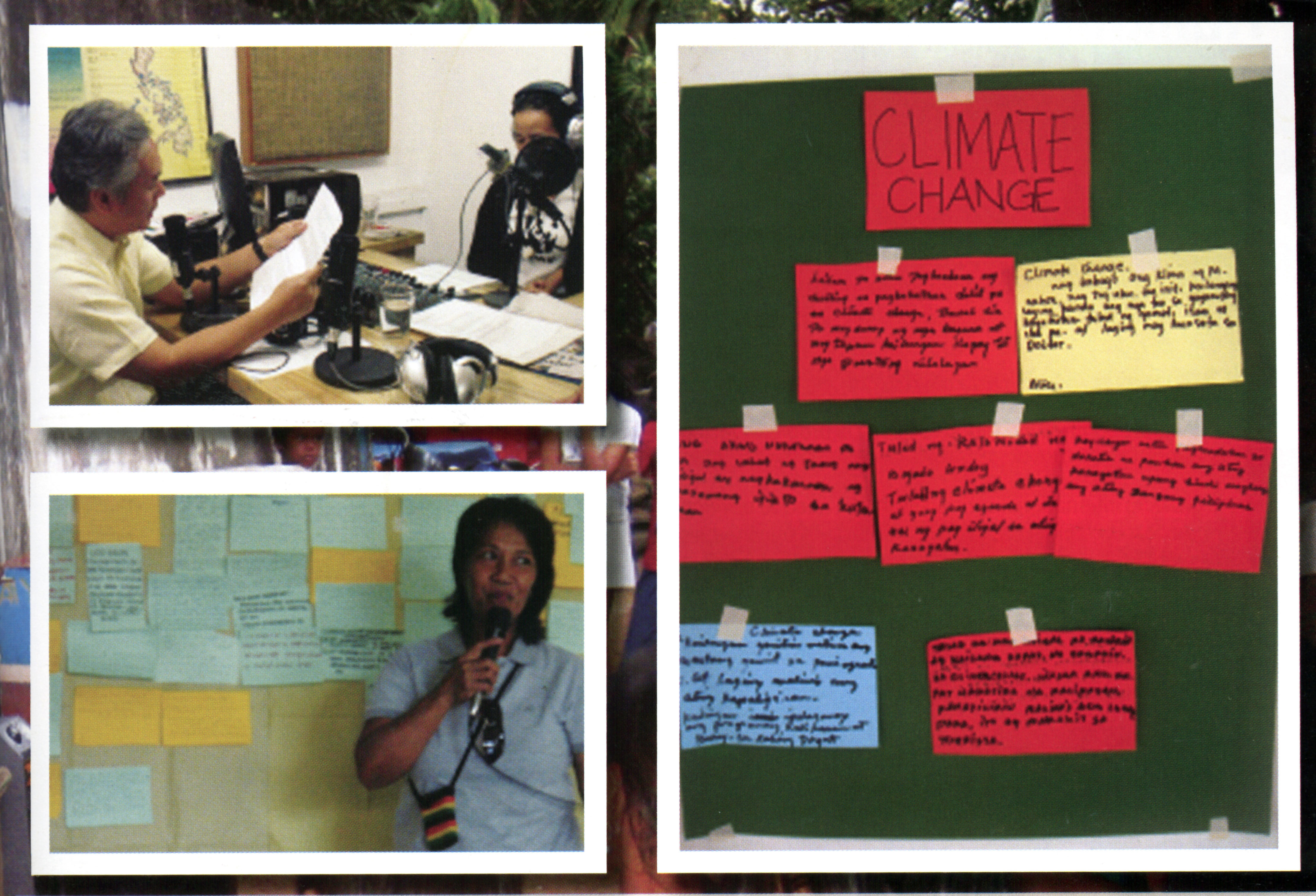 The rich and invaluable marine ecosystems of Palawan and Occidental Mindoro, which are part of the Coral Triangle, are threatened by illegal fishing, improper management of fishery resource sites, lack of active protection, unchecked tourism and land development, as well as climate change impacts, particularly extreme weather events, sea level rise, increase in sea temperatures, and coral bleaching events. These ecological threats, both manmade and natural, have serious ramifications not just on the environment but also on livelihood, health and safety, and food security, especially those in dependent coastal communities.
Being the greatest stakeholders, coastal communities and fisherfolk in the Coral Triangle must be in the forefront of protecting and conserving these ecosystems. The project, therefore, seeks to address two related community needs: (1) greater awareness of sustainable fisheries management and the importance of active community participation in fisheries protection activities and (2) greater awareness of local climate change impacts and what steps are needed to cope with these impacts.
Action Starts with Awareness
The Audio-Based Materials on Fisheries Management and Climate Change project was conducted in the municipalities of Taytay (the El Nido-Taytay managed Resource Protected Area is the largest marine sanctuary in the country) and Quezon in Palawan Province and the municipality of Sablayan in Occidental Mindoro. Incidentally, Palawan and Occidental Mindoro are two existing project sites of World Wildlife Fund (WWF) Philippines.
The blended model ensures both breadth of coverage via radio broadcasting and depth of treatment by way of face-to-face community discussions supplemented by audio playback and printed materials. A third advantage is cost-effectiveness. This model was used before on two previous projects (health/livelihood and organic farming) by the project's proponent, the Foundation for Information Technology & Communication (FIT-ED), with considerable success.
Within the gamut of fisheries management and climate change, the audio materials covered the following topics: biodiversity, marine ecosystems and endangered species, sustainable livelihood, sustainable mariculture, marine protection, ecotourism, climate change, social and economic impacts of climate change, disaster preparedness for climate change, climate change adaption, and climate change mitigation.
Topics were presented in an engaging, informative and listener-friendly way in 16 half-hour episodes with Filipino as the primary language. Radio episodes included audio dramas and interviews and integrated valuable information like facts and figures, "dos and don'ts," and best practices.
The advocacy campaign targeted the general public, fisherfolk and fisherfolk organizations, and municipal leaders and policymakers. It supplements and supports ongoing and future fisheries management and climate change adaption planning activities of WWF-Philippines in the said two provinces.
The National Institute for Science and Mathematics Education and Development of the University of the Philippines (UP-ISMED) was commissioned to perform a third party evaluation and performed pre-testing and post-testing of the project's target audience. Its findings indicate overall success of the project which was effective in putting across the messages it intended to promote. There was an increase in the number of fully correct responses in all three sites in almost all items. For example, differences in pre- and post-testing indicated considerable increases of scores in the following: five times for effect of climate change in biodiversity, twice for effects of climate change on health, and about 50 % for effects of climate change in livelihood. Partially correct answers also doubled.
The proponent also conducted its own evaluation and similarly, the project received an overwhelmingly positive response. 78% of respondents gave the radio show the highest rating while 22% said it was good.
The proponent enumerates its learning from and insights of the project as follows: (1) in selecting project sites and organizing community activities, the existence of local partners, the cost-effectiveness of coordination and the constraints of participants' mobility must be considered; (2) additional support is required for participants who are not functionally literate; (3) replay of the audio program during the community discussions is necessary to supplement the radio broadcast; and, (4) provide more printed materials as aids to learning (these are easy to access and very portable).
The proponent concludes that the use of audio materials combined with face-to-face discussions is an effective model for conveying essential information and key advocacy messages on fisheries management and climate change. With this proof of concept, scale up of the model is recommended. For their parts, FIT-ED and WWF-Philippines are working to deploy this model in other coastal communities in Palawan, Tawi-Tawi, and Batangas.
The Foundation for Information Technology & Development, Inc. (FIT-ED) seeks to help people and communities to harness information and communication technologies (ICTs) for learning. It believes that learning is the key to human development, and that ICTs – both old (telephones, radio, television) and new (computers, the Internet, wireless technologies) – can enable learning in powerful and economically and socially meaningful ways. It is committed to developing, testing, and replicating appropriate, effective, and sustainable models and methodologies of ICT use for improving educational outcomes, broadening access to education, and fostering cultural understanding. Its work is focused on three areas: education transformation, education for all, and culture and identity. Cutting across these three focus areas is its research and policy advocacy program.
* * * * *
Originally published in the Foundation for the Philippine Environment Annual Report 2011.