News
Enhancing Capacities of Indigenous Peoples (IPs) for Stronger Forest Governance and Biodiversity Conservation Program or #StrongIPs4Forests&BiodiversityProgram;
Posted on September 2, 2021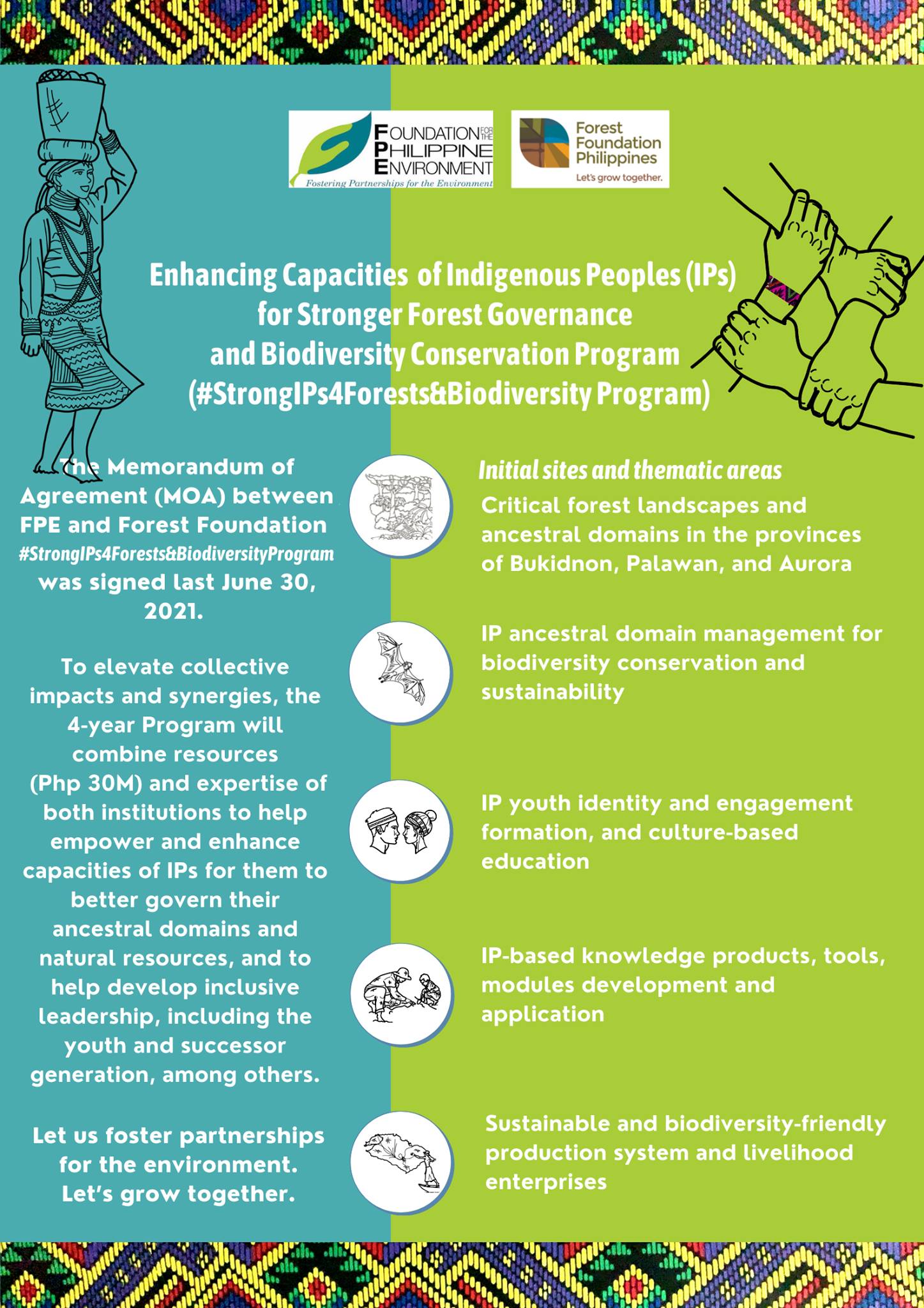 Foundation for the Philippine Environment (FPE) and Forest Foundation Philippines (Forest Foundation) commit PHP 30M to an Indigenous Peoples program for stronger forest governance and biodiversity conservation
To close the environment month celebration in June with a focus on the Indigenous Peoples (IP) who are key stewards of forests and biodiversity, #FPE and the Forest Foundation signed a memorandum of agreement on June 30, 2021, committing Php 30M over four years to implement the Enhancing Capacities of Indigenous Peoples (IPs) for Stronger Forest Governance and Biodiversity Conservation Program or StrongIPs4Forests&Biodiversity Program.
Forest Foundation and FPE recognize that reversing the extinction of biodiversity, forest degradation, and the climate crisis will only be achieved if biodiversity and natural resources are valued, sustained, and protected by indigenous peoples (IP) and local communities, in partnership with civil society organizations, academe, local and national governments agencies, and the private sector. A UNDP study estimates that the ancestral domains of the largely marginalized indigenous cultural communities are home to about 85% of the country's key forest and biodiversity areas.
Both FPE and Forest Foundation acknowledge the importance of listening to IP communities' experiences and aspirations, engaging the IP youth to strengthen their sense of cultural identity and ties to their ancestral domains, and building solidarity with others to have collective impacts on conserving forests and biodiversity, addressing climate emergency, and community resilience under a dynamic internal and external environment.
To elevate collective impacts and synergies, the StrongIPs4Forests&Biodiversity Program will combine the resources and expertise of both institutions to help empower and enhance capacities of IPs for them to better govern their ancestral domains and natural resources, and to help develop inclusive leadership, including the youth and successor generation, among others.