News
Lumads Advance Environmental Governance Through Partnerships Under EU Project
Posted on August 1, 2013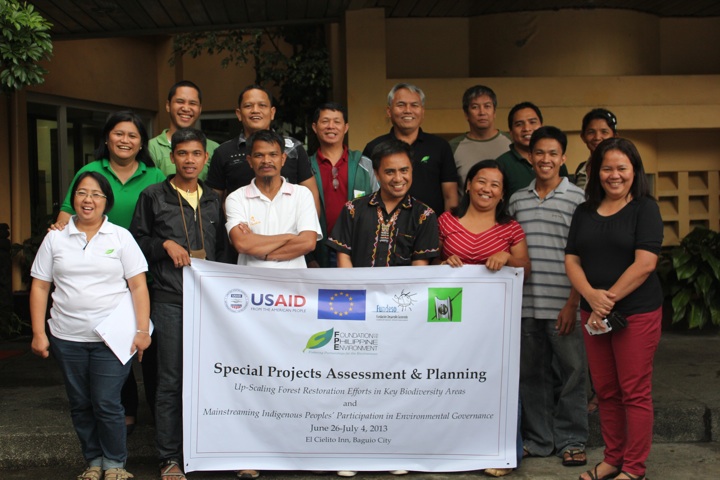 Five Lumad groups in the country advance indigenous peoples' (IP) efforts on environmental governance and biodiversity conservation through the Mainstreaming Indigenous People's Participation in Environmental Governance (MIPPEG) project of the Foundation for the Philippine Environment (FPE), European Union-Fundacion Desarrollo Sostenido (EU-FUNDESO) and the Philippine Association for Intercultural Development (PAFID). The groups represent the Maeng, Sibuyan-Mangyan-Tagabukid, Bukidnon-Higaonon, Mansaka, and Mandaya tribes.

During the MIPPEG project assessment last June 26 to July 4 in Baguio City, representatives and leaders of the said tribes, particularly those from Abra, Sibuyan, and in Compostela Valley reaffirmed partnership with FPE. IP leaders attested the promotion of transparency and improvements in the financial management capacity of IP organizations (IPO), generation of more resources for the IPOs, and strengthening the protection of natural resources through recruitment, training and deputation of forest guards in MIPPEG project sites. According to the tribal groups, there is now greater and more meaningful participation of women in community activities and IPOs are now being recognized and consulted by their local government units.

As facilitated by MIPPEG, IP mandatory representation in policy-making bodies and other local legislative councils in accordance with the Indigenous Peoples Rights Act (IPRA) is now assured. Magkatadung Angcong Bernardo Limikid, representing the Mansaka and Mandaya tribes was recently installed in Maragusan, Compostela Valley. In Bukidnon there are eight IP mandatory representatives installed at the barangay level representing the Higaonon tribe, namely: Ferdinand Ontao (Brgy. Maligaya), Jeomar Libanda (Brgy. Manalog), Eulogio Simplon (Brgy. Panamucan), Mabini Libuhan (Brgy. Kibalabag), Pedrito Prementel (Brgy. Silae), Cherry Aslayan (Bgry. Tin-tinaan), Leonardo Timbangan (Brgy. Kulaman), Bregida Mayona (Brgy. Freedom). In Tubo, Abra, Jose William was the first to be installed in the Cordillera Region, other municipalities followed thereafter using as model the Tubo experience.

Inspired by these milestones, FPE and partner IPOs are now poised for more projects this year eyeing in particular, forest restoration efforts in 'Pablo'-stricken areas in Compostela Valley, and a donors' forum in November to broaden partnerships and support for IPOs.

The Mainstreaming Indigenous People's Participation in Environmental Governance (MIPPEG) project funded by European Union provides support to IP in order to improve their quality of life by empowering the IPs to assert their rights to selfgovernance and selfdetermination, and to regain their rights to manage the natural resources within their ancestral domain.