News
Nacolodeans Challenged to Sustain Conservation Efforts in Mt. Nacolod
Posted on June 24, 2013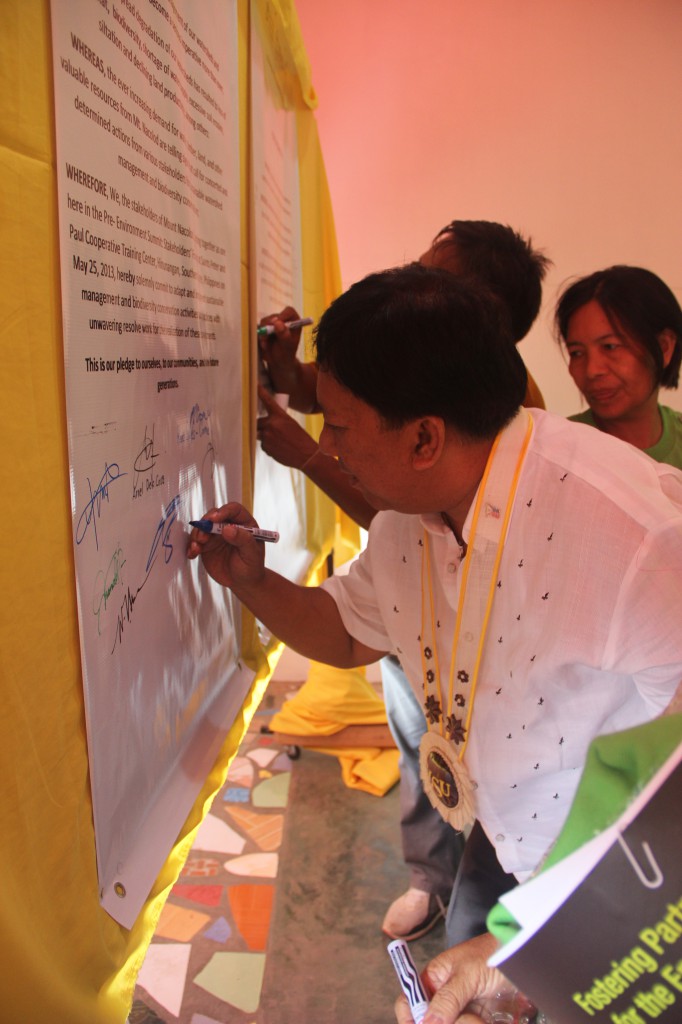 The United States Agency for International Development – Foundation for the Philippine Environment (USAID-FPE) Up-Scaling Forest Restoration Efforts in Mt. Nacolod Key Biodiversity Area Project is nearing the end of its two-year project implementation. Sustainability mechanisms have been set in place and commitments were reaffirmed with the Department of Environment and Natural Resources (DENR) for continuous conservation efforts.
Guest speaker Julio Galvez Tan, executive director of FPE3 and former executive director of FPE, encouraged various stakeholders present during the recently-held environment summit to continue the initiatives started by the said project and maximize project gains. "Now that you know what you have, you need to protect them before you regret losing them," he addressed the crowd composed of representatives from people's organizations, academe, and government agencies in Southern Leyte.
DENR Region 8 Executive Director Manolito Ragub who also graced the occasion applauded the project for the conduct of research and publication of knowledge products capturing baseline data, best practices and lessons learned.
Identified as one of the country's 228 key biodiversity areas with high flora and faunal biodiversity, Mt. Nacolod is a 33,494 hectare-watershed that extends to the municipalities of Sogod, Libagon, St. Bernard, Hinunangan, and Silago of Southern Leyte, and parts of Abuyog and Mahaplag of Leyte.
The USAID-FPE project made possible the reforestation of 60 hectares of denuded areas in Mt. Nacolod. FPE partnered with VSU-ViFARD and Kahupian Upland Farmers' Association and Barangay Sap-ang Farmers' Associationin the planting of native trees using VSU's rainforestation technology. Forest guards were also trained and deputized to strengthen forest protection. Knowledge products such as 3D map showcasing projects implemented in Mt. Nacolod and case studies documenting best practices of VSU-ViFARD were produced. Biophysical and socio-economic resource assessments of the area were also conducted.
A conservation and management framework for Mt. Nacolod facilitated through the New Conservation Areas Project (NewCAPP) project funded by UNDP is also underway, along with a pending house bill declaring Sogod-San Juan-St. Bernard-Hinunangan forests in Southern Leyte as a protected area. In the meantime, an ordinance is in place in Southern Leyte declaring by Mt. Nacolod as forest protected area to ensure conservation and sustainable management of the watershed.
Mt. Nacolod houses several threatened and endemic species in the Philippines making it an identified priority site for conservation in the country. While FPE and DENR expressed their continued commitment to Mt. Nacolod, much work and support are also expected from the Nacolodeans themselves.