News
Sibuyan Mangyan Tagabukid Gained Continued Government Support
Posted on October 14, 2013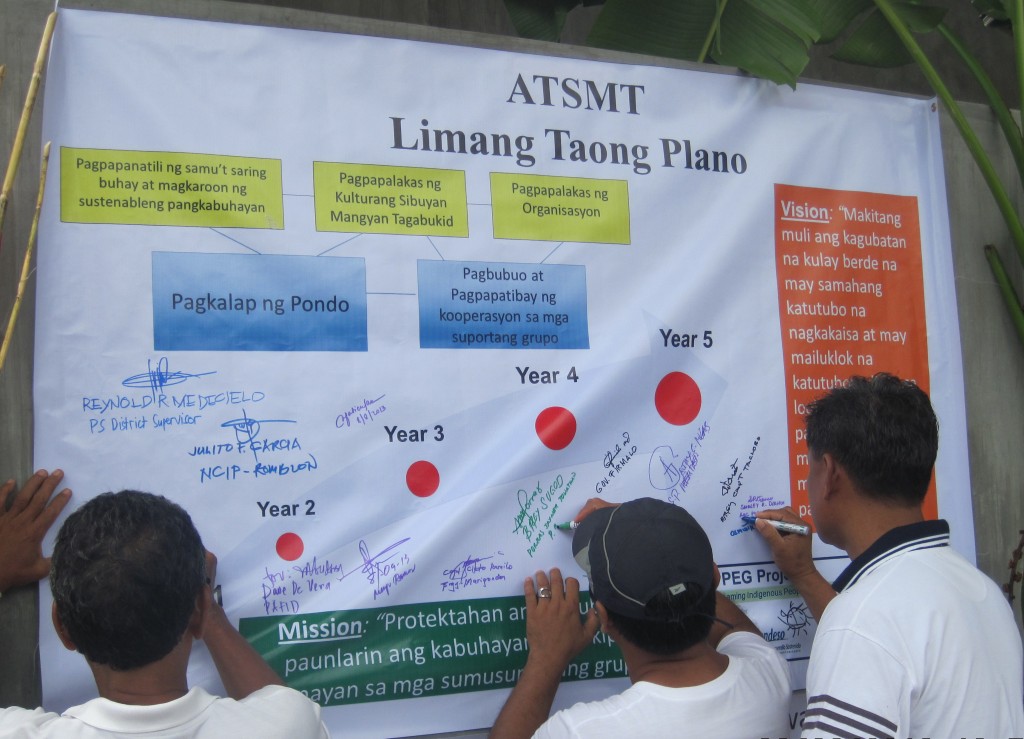 Local government units and national agencies guaranteed continued support to Sibuyan Mangyan Tagabukid (SMT) indigenous peoples (IP) group in Romblon in conserving their 8,408.84has ancestral domain, enriching SMT culture, and bolstering IP alliance.
Romblon provincial government, municipalities of Cajidiocan and San Fernando, the Department of Education, Department of Social Welfare and Development, Department of the Interior and Local Government (DILG), and the National Commission on Indigenous People (NCIP) renewed their support to the five-year conservation and development plan of SMT during the first-ever IP Day celebration last August 8, 2013 in Cajidiocan, Romblon. Dubbed "Adlaw ng Kasadyahan", this activity sponsored by the Asosasyon ng Tribong Sibuyan Mangyan Tagabukid (ATSMT), Inc. and FPE, through its Mainstreaming Indigenous People's Participation in Environmental Governance (MIPPEG) sponsored by the European Union-Fundacion Desarrollo Sostenido (EU-FUNDESO) and in partnership with Philippine Association for Intercultural Development (PAFID), gathered seven IP communities from Haguimit, Sinapawan, Panagintingan, Guin-alan, Guintag-an, Layag, and Malapipi.
Notably, the provincial government has allotted Php100,000-worth of livelihood program, the municipal government of Cajidiocan provided transportation of SMT products, the DepEd committed seeking support from the LGU for placement of teachers and their salaries and the eventual construction of classrooms in IP areas, the DILG in finding additional funding for pre-school establishment, while the NCIP in assisting the inventory of Certificate of Ancestral Domain Title (CADT) requirements. Other commitment of support were from San Fernando municipal government and Cajidiocan Barangay Council. FPE, for its part, committed supporting biodiversity conservation and sustainable development projects in Sibuyan until the next ten years. A cash donation of Php 1,000 was also given to SMT.
These pledges answered the need of the SMT for the conservation of their ancestral domains, knowledge-sharing, capability-building activities, and education facilities, to name a few. IP elder Epifanio Regla acknowledged the support of various agencies, especially in the issuance of CADT to SMT members.
SMT IP communities can be found in Magdiwang, Cajidiocan, and San Fernando towns in Sibuyan. SMT has a rich cultural history and unique language. However, as with the other IP groups in the country, they are threatened with displacement from their ancestral domain.
Under Republic Act 8371 or the Indigenous Peoples Rights Act of 1997, NCIP is mandated to facilitate and approve the delineation and survey of their ancestral lands. At present, two CADTs were issued to SMT, one with a total of 7,718.84 hectares covers areas in Cajidiocan and San Fernando and another in Sitio Guintac-an, Brgy Agtiwa, San Fernando with an area of 690 hectares. A total of 932 IP households can be found in Sibuyan coming from 13 settlements/ clusters, namely Guintac-an, Layag, Malapipi, Anahao, Kabuylanan, Sinapawan, Panaguintingan, Haguimit, Guin-alan, Camanglad, Marigondon, Dulangan, and Tampayan.
To advance SMT rights to their ancestral lands, customary laws, cultural integrity and representation in local legislative bodies, FPE believes the tribe must remain "vigilant in expressing ancestral domain rights to keep their culture and express self-determination".